Abstract
The current novel therapeutic approach suggests that multi-targeted compounds, with diverse biological activities but a single set of bioavailability and pharmacokinetics, will be significantly more advantageous in the treatment of the complex pathology of Parkinson's diseases (PD) than traditional therapies. This review introduces a novel cholinesterase (ChE)-monoamine oxidase (MAO) inhibitor, namely MT-031, which was designed by amalgamating the propargyl moiety of the irreversible selective MAO-B inhibitor and neuroprotective/neurorestorative anti-Parkinsonian drug, rasagiline, into the methylamino position of the ChE inhibitor anti-AD drug, rivastigmine. MT-031 possesses neuroprotective, cognition enhancing, anti-depressant, and anti-inflammatory properties both in vitro and in vivo. Altogether, these findings suggest that MT-031 may be a potential treatment for combating PD and associated dementia and depression.
Keywords
Parkinson's disease, dementia, cholinesterase, monoamine oxidase, multi-targeted drugs
INTRODUCTION
With aging and the increasing life span of the population, Parkinson's disease (PD), an age-related neurodegenerative disorder, is receiving increased attention. It is estimated that the number of PD patients will reach more than 12 million by 2040, doubling the cases seen in 2016[1]. The motor deficits of PD are emphasized in both making the initial diagnosis and in tracking the progression of the disease[2]. As understanding of the symptoms and pathogenesis deepens, however, it has been suggested that the non-motor features of PD, including cognitive impairment, i.e., dementia, should be more attended to[3,4]. A previous study indicated that approximately 25.8% of individuals with PD exhibit mild cognitive impairment[5], and longitudinal studies have documented that up to 70% of these patients will progress to dementia after ten years of symptoms[3]. In addition to cognitive impairment, other symptoms, e.g., depression, may emerge regularly throughout the development of PD[6-8], and this symptom may worsen the severity of dementia as the disease progresses. Since dementia in both Alzheimer's disease (AD) and PD patients generally presents with similar features, present treatments for Parkinson's disease dementia (PDD) are mostly derived from drugs utilized in AD, such as cholinesterase inhibitors (ChEIs) and memantine, which was initially developed for the treatment of AD. To date, rivastigmine is the only FDA-approved therapy that is currently licensed for PDD.
It is well known that neurodegenerative diseases, such as AD, PD, amyotrophic lateral sclerosis, and Huntington's disease, are possibly triggered by a group of pathologies, characterized by separate etiologies with distinct morphological and pathophysiological features, including iron accumulation[9-11], generation of reactive oxygen[11] and nitrogen species[12], inflammation[13-15], mitochondrial (complex I) deficiency[16], ubiquitin-proteasome system dysfunction[17], and abnormal protein folding and aggregation[18,19]. This suggests that the "cocktail of drugs" strategy, i.e., mixing different targeted molecules as drug combinations, may offer theoretically feasible treatment for these diseases. Nonetheless, compared to using a single effective compound, the cocktail strategy increases the risk of side effects and ups the difficulty of managing drug-drug interactions, safe dosing, and metabolic shunt effects[20,21]. A single drug with multiple targets - one compound conjugating two or more diverse biological properties - thus has a pronounced advantage over single-target drugs or drug cocktails[22,23]. An attractive example of a multi-targeted drug is ladostigil (TV3326), a cholinesterase (ChE)-monoamine oxidase (MAO) inhibitor, indicated to target various pathogenic mechanisms of neurodegenerative diseases[24-27]. The underlying principle in the design of ladostigil was to join the carbamate ChE inhibitory moiety of the anti-AD drug, rivastigmine, to the irreversible selective MAO-B inhibitor, rasagiline[24]. Ladostigil has shown positive results in a phase II clinical trial evaluating its safety and efficacy in patients diagnosed with MCI[28].
Based on a similar rationale, a novel ChE-MAO inhibitor, namely MT-031 [Figure 1], was designed and synthesized for the treatment of AD. MT-031 amalgamates the propargyl moiety of the irreversible selective MAO-B inhibitor and neuroprotective/neurorestorative drug, rasagiline, into the methylamino position of the ChE inhibitor, rivastigmine[29]. Since AD and PD share similar pharmacological treatment demands, this review discusses the potential use of this novel multi-targeted drug, MT-031, for dementia and depression in PD.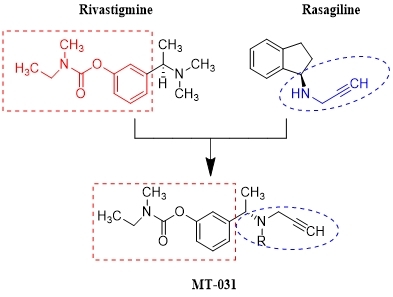 Figure 1. The chemical structure of the novel ChE-MAO inhibitor, MT-031[(S)-3-(1-(Methyl(prop-2-yn-1-yl)amino)ethyl)phenyl ethyl(methyl)carbamate], designed by amalgamating the active propargyl moiety of the anti-Parkinsonian drug, rasagiline, a brain selective MAO-B inhibitor, into the "N-methyl" position of the anti-AD drug ChE inhibitor, rivastigmine. AD: Alzheimer's disease; ChE: cholinesterase; MAO: monoamine oxidase; MAO-B: monoamine oxidase-B.
INHIBITORY EFFECT OF MT-031 ON MAO
Rasagiline (Azilect®) is an anti-Parkinsonian MAO-B inhibitor drug, which presented neuroprotective and neurorescue activities in animal models and neuronal cell models of neurodegeneration[30] and exerted disease-modifying effects in PD patients[30-32]. The propargyl moiety of rasagiline has been proven to be an important active functional group for its MAO inhibitory activity[33,34] and neuroprotective/neurorestorative effects[35,36]. By retaining the active propargyl moiety, the inhibition of MAO in the brain is associated with neuroprotective effects in the neurodegenerative and age-related disturbances of homeostasis, and the products of the MAO-catalyzed reaction (e.g., aldehydes and hydrogen peroxide) are compelling inducers of lipid peroxidation and the generation of free radicals in the involution of the nervous system[37,38]. By retaining the propargyl moiety of rasagiline, MT-031 was found to be a selective MAO-A inhibitor (selectivity of MAO-A/B > 500-fold, Table 1); interestingly, this is different from its parent drug, rasagiline, which is a selective MAO-B inhibitor (selectivity of MAO-B/A = 100-fold, Table 1)[29]. In humans, MAO-A is found within the outer mitochondrial membrane of both neuronal and glial cells, where it participates in the inactivation of dopamine (DA) in the primate and human brain[39]. As dopamine depletion in the striatum causes the core motor manifestations of PD, a selective MAO-A inhibitor might provide an anti-Parkinsonian benefit[40,41].
Table 1
The inhibitory effect (IC50) of MT-031 and its parent drugs, rasagiline and rivastigmine, on MAO and ChE in vitro
Compound
Inhibition (IC50 μMa)
MAO-A
MAO-B
MAO selectivity (A/B)
AChE
BuChE
ChE selectivity (AChE/BuChE)
MT-031
0.71 ± 0.04
> 1000
> 500
58.3 ± 6.3
34.6 ± 8.3
0.59
Rasagiline
0.41
0.0044
0.01
NA
NA
-
Rivastigmine
NAb
NA
-c
2.07
0.37
0.18
Additionally, depression has also been reported to be one of the most common symptoms of PD, occuring in around 40% of patients with PD, and it is often persistent[42]. The efficacy of MAO-A inhibitors has been proven effective in the treatment of atypical depression, high levels of anxiety, anergic bipolar depression, and treatment-resistant depression for decades[43-45]. MAO-A mainly metabolizes serotonin (5-HT) and norepinephrine (NE), and a reduction in the 5-HT major metabolite, 5-hydroxyindoleacetic acid, in the cerebrospinal fluid was reported to be associated with violent and impulsive behavior, including violent suicide attempts[46]. The antidepressant effects of MAOIs were hypothesized to be based on a deficiency in catecholamines, specifically NE and DA, as well as possibly the indolamine 5-HT[47]; the mechanisms of action of MAOIs as antidepressants were thus thought to be because they directly resulted in increased levels of neurotransmitter amines at nerve terminals[48,49]. Selective MAO-B inhibitors may not be effective as antidepressants because MAO-B has no direct effect on either 5-HT or NE metabolism. A dual MAO-A/B inhibitor may rapidly increase DA levels to heighten feelings of pleasure, but abnormal surges in DA are linked to serious side effects[50-53]. Therefore, a drug with selective MAO-A inhibition could potentially be a safer and more effective treatment for depression in PD patients.
Moreover, an important finding is that, following administration of MT-031, there is little inhibition of MAO-A in the liver and small intestine[29,54]. Irreversible, high degrees of MAO-A inhibition in peripheral tissues is associated with potentiation of tyramine-induced cardiovascular activity[55], namely the "cheese effect"[56,57]. These data indicate that MT-031 may produce only limited potentiation of blood pressure in response to oral tyramine, as previously described for rasagiline[57,58] and other propargyl containing drugs, such as ladostigil[59], M30[60], and VAR-10303[61].
INHIBITORY EFFECT OF MT-031 ON CHE
To date, acetylcholinesterase inhibitors (AChEIs) have been the mainstay of therapeutic approaches for AD. AChEIs are used to increase synaptic levels of acetylcholine (ACh) and block the breakdown of ACh by inhibiting AChE[62]. Some reports suggest that cortical cholinergic deficits are more pronounced in PDD and that they are strongly correlated with cognitive decline and neuropsychiatric disturbances in PD[63,64]. The efficacy of the only FDA approved dual AChE and butyrylcholinesterase (BuChE) inhibitor, rivastigmine [Figure 1 and Table 1], one of the parent drugs of MT-031, has been proved in various clinical trials in the treatment of PDD[65]. Rivastigmine exerts its therapeutic effects by increasing the levels of acetylcholine in the brain via reversible inhibition of its hydrolysis[66]. It has been proposed that the effects of rivastigmine might reflect an additional property of BuChE inhibition, which is implicated in symptom progression and thus can provide some patients supplementary benefits over AChE selectivity[67]. In humans, AChE predominates (80%) and BuChE is considered to play a minor role in regulating ACh levels in the healthy brain[68]. Especially, BuChE activity rises while AChE activity remains unchanged or declines in the AD brain[68-70], thereby supporting the key role of BuChE in regulating brain acetylcholine levels[71]. Therefore, both enzymes are likely to be involved in regulating ACh levels and represent legitimate therapeutic targets to ameliorate cholinergic deficits[72]. MT-031 was found to significantly inhibit both AChE and BuChE activities in vitro, although with a lower IC50 than that of its parent drug, rivastigmine [Table 1][29]. Accordingly, our previous study showed that MT-031 treatment prevented cognitive deficits induced by scopolamine and improved spatial learning and memory. These results may be attributed to MT-031 being able attenuate scopolamine-induced ChE disturbance by inhibition of ChE activity. In addition, after acute treatment in rats, MT-031 inhibited cortical and hippocampal AChE/BuChE by 50%-70% at doses ranging from 5 to 10 mg/kg[29]. The high inhibitory effect of ChE activity is very crucial, as the fact that the clinical study of ladostigil (clinicaltrials.gov/ct2/show/NCT01354691) in the treatment of AD did not achieve its primary outcome may be due to its low inhibitory ratio on AChE (ladostigil inhibited an average of 21.3% of AChE)[28,73]. Furthermore, 24 h after the last dose was given to mice in a chronic administration model, MT-031 still caused dose-dependent antagonism of the spatial memory deficits induced by scopolamine in mice[54]. These results may suggest that MT-031 is a reversible but long-term ChE inhibitor, and that it is able to increase brain ACh levels sufficiently to compete with scopolamine for the muscarinic receptors subserving memory[74].
NEUROPROTECTIVE ACTIVITY OF MT-031
One aspect of the neuroprotective activity of MT-031 is that it directly scavenges free radicals over-produced in hydrogen peroxide (H2O2)-treated SH-SY5Y cells[29]. H2O2 is a major source of free radicals; it is produced during the redox process and considered to be a messenger in intracellular signaling cascades, including cellular metabolism and proliferation[75,76]. The predominant sources of H2O2 in the brain are spontaneous superoxide dismutation catalyzed by the enzyme superoxide dismutase[77] and MAO activity[78]. MAO-A and -B, in particular, catalyze the oxidative deamination of DA, 5-HT, and NE[39] and yield metabolic products, aldehydes, and reactive oxygen species (ROS) such as H2O2. Therefore, the neuroprotective abilities of MAO inhibitors in the treatment of PD may be through reducing ROS production[39,79,80]. In addition, several lines of evidence suggest that AChE and BuChE activation may be involved in the apoptosis associated with H2O2[81,82]. The link between cholinergic signaling and oxidative stress provides an additional therapeutic target for ChEIs in PD. Indeed, the ChEls, tacrine[81], huperzine A[83], and rivastigmine[84] were demonstrated to significantly protect cells against H2O2 insult. Moreover, MT-031 was found to enhance the mRNA expression levels of neurotrophins, anti-apoptotic molecules (Bcl-2 like 1 and Bcl-2), and an anti-oxidative enzyme (catalase) in the mouse striatum, further demonstrating the significant neuroprotective and anti-oxidative actions of this drug[54]. Multiple studies with various apoptotic paradigms have shown that Bcl-2 can protect cells against oxidative insults[85-88]. Measurements of ROS levels including H2O2 have shown that Bcl-2 expression is correlated with reduced levels of oxidative stress in cells exposed to oxidative damage. Additionally, increased synaptic ACh levels resulting from AChE inhibition may potentiate the effect of neurotrophins, neuronal growth factor and brain-derived neurotrophic factor, which was previously demonstrated to induce neuroprotection against free radical insults[89,90].
Increasing evidence suggests that neuroinflammation contributes to the cascade leading to progressive neuronal damage in PD[15,91]. The major pro-inflammatory cytokines, such as interleukin-1β (IL-1β), IL-2, IL-6, IL-17, tumor necrosis factor-alpha (TNF-α), and interferon-gamma (IFN-γ), lead to increased production of inducible oxidative stress, neuronal stress, and further neuronal dysfunction and death in the AD brain[92-95]. The anti-inflammatory effect of MT-031 was found to be associated with elevation of the levels of one of the major cytokines, IL-10, which limits inflammation by reducing the synthesis of pro-inflammatory cytokines such as IL-1, IL-6, IFN-γ, and TNF-α[54]. The anti-inflammatory effect of MT-031 was also demonstrated in proliferated splenocytes activated by anti-CD3, in which MT-031 did not affect the viability of the unstimulated splenocytes, indicating that the anti-proliferative effect was not associated with a protective effect against cytotoxicity[54]. In addition to proliferation, splenocytes and microglia cells can also be activated to produce cytokines, multi-functional soluble factors with pro- and anti-inflammatory activities[96,97]. MT-031 suppressed the elevation of IL-17 and INF-γ in anti-CD3-activated splenocytes, possibly by increasing the generation of IL-2, although the exact mechanism needs to be addressed by further study. Inconsistent with the anti-inflammatory effects seen in cell cultures, MT-031 upregulated the mRNA expression levels of the anti-inflammatory cytokine neurotrophic tyrosine kinase receptor and reduced levels of the pro-inflammatory cytokine IL-6 in a scopolamine mouse model[54].
EFFECTS OF MT-031 ON SCOPOLAMINE-INDUCED DEMENTIA
It has been shown that scopolamine exerts its effects through antagonizing muscarinic acetylcholine receptors[98,99]. A previous study confirmed that MT-031 treatment prevented cognitive deficits induced by scopolamine and improved spatial learning and memory, as examined in the Y maze task and Morris water maze test[54]. This effect may be attributed to an increase of amine contents, NE, 5-HT, and DA, as well as to the direct effect on scopolamine-induced ChE disturbance through inhibition of ChE activity. MT-031 exerted a significant inhibitory effect on ChE in the hippocampus and frontal cortex of mice[54]. This is an advantageous property of MT-031, as previous data show that, when ChE inhibitors are less effective in the hippocampus, other brain regions may produce insufficient amounts of ACh to displace scopolamine from receptors, which results in dysfunctional mediation of working memory[100]. Our data are in line with the reported protective effects of rivastigmine[101] and ladostigil[102] in a scopolamine mouse model, suggesting the importance of inhibiting both AChE and BuChE activities in ameliorating cognitive impairments[65,101]. There are more and more studies that support the idea that multi-targeted brain selective MAO and ChE inhibitors may exert better treatment effects than single ChE inhibitors in the treatment of dementia in neurodegenerative disorders such as AD and PD[22,26,80].
CONCLUSION AND PERSPECTIVE
Available treatments for PDD are limited in both number and quality, and they only provide symptomatic relief for cognitive impairment. The multi-factorial causes of the disease make the development of new drugs a difficult task. The rational design of incorporating two or more distinct functional pharmacophores into one molecule has been suggested to be feasible[22,103]. A single target molecule may have greater affinity towards a specific target than a molecule with multiple targets; however, a multi-target strategy creates compounds with a balanced affinity for treating the multifactorial causes of multiple neurodegenerative diseases. To date, none of the cholinesterase inhibitors in the clinic has been proved to possess neuroprotective activity or anti-depressant action. The design of the novel drug candidate, MT-031, was aimed at targeting multiple neurodegenerative processes. MT-031 is a brain selective MAO-A and AChE/BuChE inhibitor and has been found to exert a wide range of neuroprotective activities [Figure 2], including anti-oxidative activity, clearance of ROS accumulation, prevention of neuronal death, and increasing levels of neurotrophic factors. MT-031 also possesses anti-inflammatory capabilities including preventing cellular proliferation, upregulating anti-inflammatory cytokines, and downregulating pro-inflammatory cytokines[29,54]. There is evidence that MT-031 inherited the neuroprotective potency described for propargylamine derivatives in neurodegenerative animal models[29,54,104]. Similar to its other parent compound rivastigmine[101] at a dose that inhibited ChE in the cortex and hippocampus by approximately 70%, MT-031 was effective in antagonizing the working and reference memory deficits induced by scopolamine[54]. These miscellaneous pharmacological properties of MT-031 [Figure 2], accompanied by its ability to improve cognitive deficits, make this compound valuable as a novel drug candidate for the treatment of dementia and depression in PD.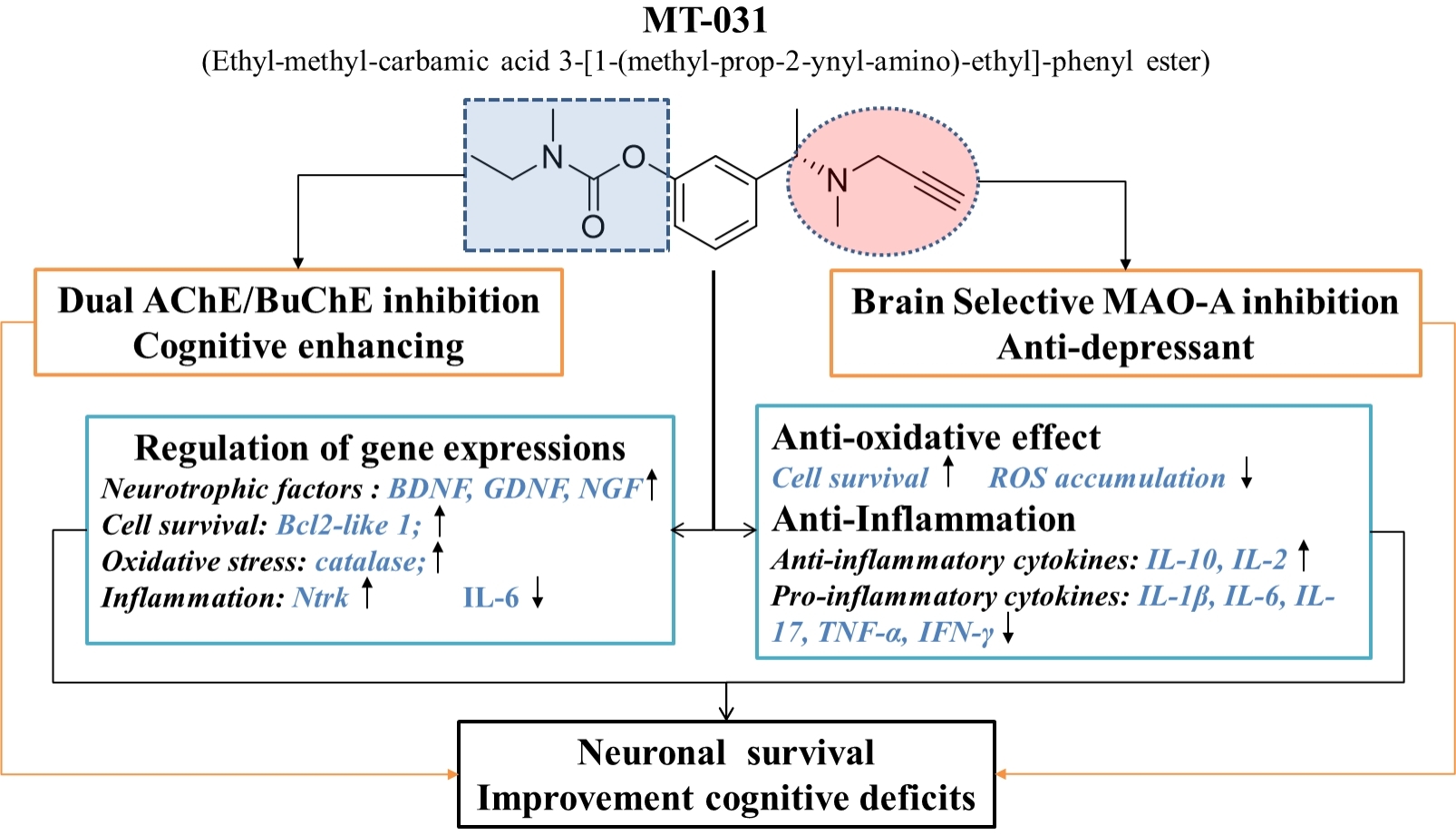 Figure 2. Suggestive schematic illustration for the mechanism of multifunctional brain permeable drug, MT-031, as a potential therapeutic approach of dementia and depression in PD. PD: Parkinson's disease; AChE: acetylcholinesterase; BuChE: butyrylcholinesterase; MAO-A: monoamine oxidase-A; ROS: reactive oxygen species; IL: interleukin; TNF-α: tumor necrosis factor-alpha; IFN-γ: interferon-gamma; TNF-α: tumor necrosis factor-alpha; Ntrk: tyrosine kinase receptor; NGF: neuronal growth factor; BDNF: brain-derived neurotrophic factor; GDNF: glial cell-derived neurotrophic factor; Bcl-2 like 1: B-cell lymphoma 2 like 1.
DECLARATIONS
Acknowledgments
The authors gratefully acknowledge the support of the Rappaport Family Research Institute, Technion-Israel Institute of Technology (Haifa, Israel). The authors also thank Ms. Linda Wang for editing this manuscript.
Authors' contributions
Wrote the review paper: Liu W
Checked the review paper: Wang Y, Youdim MBH
Availability of data and material
Not applicable.
Financial support and sponsorship
The work was supported by Youdim Pharmaceuticals.
Conflicts of interest
All authors declared that there are no conflicts of interest.
Ethical approval and consent to participate
Not applicable.
Consent for publication
Not applicable.
Copyright
© The Author(s) 2022.
Cite This Article
OAE Style
Liu W, Wang Y, Youdim MBH. A novel neuroprotective cholinesterase-monoamine oxidase inhibitor for treatment of dementia and depression in Parkinson's disease. Ageing Neur Dis 2022;2:1. http://dx.doi.org/10.20517/and.2021.09
AMA Style
Liu W, Wang Y, Youdim MBH. A novel neuroprotective cholinesterase-monoamine oxidase inhibitor for treatment of dementia and depression in Parkinson's disease. Ageing and Neurodegenerative Diseases. 2022; 2(1):1. http://dx.doi.org/10.20517/and.2021.09
Chicago/Turabian Style
Liu, Wei, Yuqiang Wang, Moussa B. H. Youdim. 2022. "A novel neuroprotective cholinesterase-monoamine oxidase inhibitor for treatment of dementia and depression in Parkinson's disease" Ageing and Neurodegenerative Diseases. 2, no.1: 1. http://dx.doi.org/10.20517/and.2021.09
ACS Style
Liu, W.; Wang Y.; Youdim MBH. A novel neuroprotective cholinesterase-monoamine oxidase inhibitor for treatment of dementia and depression in Parkinson's disease. Ageing. Neur. Dis. 2022, 2, 1. http://dx.doi.org/10.20517/and.2021.09