INTRODUCTION
Parkinson's disease (PD) is a neurological disorder characterized by progressive neurodegeneration in the nigrostriatal system, resulting in the development of progressive movement disorders[1]. Pathological examination revealed cytoplasmic inclusions known as Lewy bodies or Lewy neurites in the survival dopaminergic (DA) neurons[2,3]. About 15% of PD cases occur in familial clusters at early age[4], which are attributed to mutations in genes, including parkin, leucine-rich repeat kinase 2, and α-synuclein[5]. By contrast, the remaining PD cases are sporadic and may represent the final outcome of a complex set of interactions among the innate vulnerability of DA system, genetic predisposition, and environmental toxins exposure[6]. Exposures to infectious agents, pesticides, or heavy metals in humans increase the risk of acquiring PD[7-13]. We and others have proposed that exposures to these risk factors trigger neuroinflammation, which plays a key role in the pathogenesis of PD[14]. However, this concept has not been proved until recently[15,16].
Microglia and astroglia are the two major types of glial cells involved in the initiation and maintenance of neuroinflammation. Microglia, the resident macrophages in the brain[17], play critical roles in the programmed elimination of neural cells in the early stage of neuronal development[18,19]. As the brain's main immune cells, microglia can rapidly be activated in response to brain injuries and immunological stimuli[20-23]. Activated microglia undergo morphological and functional changes[20] and increase the expression of many surface molecules[24,25]. Activated microglia release a variety of immune factors to recruit more cells and phagocytize foreign substances. In normal physiological conditions, microglia exerts beneficial functions in immune surveillance and depletion of noxious stimuli. By contrast, in pathological conditions, such as chronic inflammation in the brain, microglia can cause neurotoxicity and significantly lead to neurodegeneration.
Different from microglia, astroglia are not derived from immune cell lineage, but they are essential to the integrity and function of the brain[26]. Besides serving as an component of the blood-brain barrier (BBB), astroglia provide physical support and nutrition to neurons, buffer excess neurotransmitters, and maintain ionic homeostasis[26]. Astroglia also become activated under immunologic challenges or brain injuries[27,28]. Activated astroglia secrete a host of neurotrophic factors, such as BDNF, GDNF, and NGF[29,30], which are crucial for the survival of neurons. It has been reported that many anticonvulsant drugs exert potent neuroprotection through astroglia-derived neurotrophic factors[31]. These findings suggest that astroglia are promising targets for developing novel therapies for PD.
Interactions among microglia and astroglia are an important yet not fully studied area. It was found that, in response to immunologic challenges, activation of astroglia often depends on the presence of microglia. Secreted immune factors from prior activated microglia can act and turn astroglia into different phenotypes depending on the immune conditions. In physiological condition, increased release of neurotrophic factors, such as GDNF, BDNF, and NGF, benefits neuronal survival[32,33]. By contrast, neurotoxic reactive astrocytes (A1 astroglia) induced by activated microglia can exaggerate neurotoxicity in pathological condition[34]. Since the role of astroglia in inflammation-related neurodegeneration is less well-documented, this review mainly focuses on the role of microglia in neuroinflammation and neurodegeneration.
Scope of this article
Recent research revealed that low-grade, chronic neuroinflammation is a key to cause progressive neurodegeneration[35,36]. However, the detailed mechanisms involved in the onset and maintenance of chronic neuroinflammation and related neurodegeneration still require additional studies. Emerging evidence suggests critical roles of central norepinephrine (NE) in the pathogenesis of disease progression and manifestations of a variety of nonmotor dysfunctions in PD patients. Thus, this perspective article focuses on the following three aspects.
Neuroinflammation-based rodent PD models
We review several toxin-elicited PD models, which show some of the cardinal characteristics of observed in PD patients, such as chronic neuroinflammation, sequential neurodegeneration, and progressive motor and nonmotor dysfunction.
Roles of central NE in neuroinflammation
Based on common features observed from inflammation-based animal models, we discuss immune factors involved in the initiation and maintenance of low-grade neuroinflammation. The possibility that the loss of locus coeruleus-norepinephrine (LC/NE) neurons may be the focal initiating point in producing a similar pattern of progressive caudal-rostral degeneration by various toxins is evaluated. Furthermore, cellular and molecular mechanisms underlying chronic neuroinflammation-induced progressive neurodegeneration are discussed.
Molecular mechanisms of anti-inflammatory and neuroprotective functions of NE
Anti-inflammatory therapy for neurodegenerative diseases has been emerging as a promising disease-modifying therapeutic strategy. We review the current status in the development of PD therapies by focusing on drugs that affect the NE system.
NEUROINFLAMMATION-BASED RODENT PD MODELS
Disease progression in PD patients
One of the cardinal characteristics of PD is the progressive nature. However, the mechanism of PD progression remains unclear. Currently, PD therapies are limited to symptoms relief, while disease-modifying therapies aimed at stopping PD progression are still lacking. The understanding of PD progression has been greatly facilitated by both basic and clinical research. Braak's group was the first to document a caudal-rostral pattern of disease progression[37]. In PD patients, neuronal loss starts from the lower brain (raphe nucleus, LC, and olfactory bulb) and gradually affects the higher centers of the brain[38]. Further studies uncovered that peripheral inflammation occurs years before PD patients show movement dysfunction. The proposed route of disease progression originating from the gut and spreading to the brain fits well with the symptom progression of PD patients[39]. Before symptoms of movement disorder are observed, gut dysfunction, such as constipation and other premotor disorders, including smell loss, sleep disorder, and other autonomic dysfunction, are often found in patients with PD. Recently, creating animal models mimicking the pattern of neurodegeneration observed in PD patients and investigating its underlying mechanisms has become a widely pursued research area.
Role of neuroinflammation in disease progression
Accumulating evidence strongly indicates that brain inflammation plays a critical role in progressive neurodegeneration. Both gene-mutated and toxin-induced animal PD models have been generated to investigate neurodegenerative pattern and associated motor and nonmotor behavioral changes. This perspective article focuses on only a few commonly accepted toxin-elicited animal PD models, which are inflammation based and show some of the cardinal progressive features observed in PD patients.
LPS model
Peripheral inflammation induces neuroinflammation and neurodegeneration
Most rodent PD models, including those generated by MPTP (1-methyl-4-phenyl-1,2,3,6-tetrahydropyridine) or 6-hydroxydopamine, display acute toxicity within days but fail to recapitulate the delayed, progressive pattern of DA neurodegeneration. To investigate whether chronic neuroinflammation plays a role in the progressive neurodegeneration of PD, several environmental risk factors implicated in the pathogenesis of PD (e.g., pesticides, herbicides, and infectious agents) and whether they could recapitulate the delayed, progressive nature of PD have been determined in rodents by our lab and others[35,40,41]. Gram-negative bacterial endotoxin LPS is one of the commonly used toxins. Following a systemic injection of lipopolysaccharide (LPS, 5 mg/kg), mice show delayed, progressive neurodegeneration of DA neurons[35]. Further studies indicate that this model not only provides an excellent tool for studying the role of neuroinflammation-related neuronal damage but also serves as a useful platform for exploring drug therapies in PD. Clinically, the relevance of the LPS model for PD is supported by several case reports, in which a significant correlation between infections and the risk of developing PD was found[42].
To investigate the role of gene-environment interactions in the etiology of PD, we created an accelerated rodent PD model by LPS in transgenic mice over-expressing mutant human α-synuclein (A53T). After a single intraperitoneal injection of LPS (1 mg/kg) in seven-month-old male mutant A53T mice (Tg mice) and wild type controls (WT mice), the delayed, progressive degeneration of nigral DA neurons was observed in Tg mice, but not in WT mice[43]. After five months of LPS treatment, Tg mice lost more than half of their nigral DA neurons, while the striatal TH levels were reduced by a comparable degree. By contrast, LPS-induced neuronal damage was not observed in WT mice or saline-injected Tg mice. These results demonstrate synergistic neurotoxicity of LPS and A53T α-synuclein overexpression, thus strongly indicating the critical role of gene-environment interactions in PD. Selective DA degeneration was assessed by immunofluorescence double-labeling with antibodies against TH and Neu-N[43]. An about 52% decrease in nigral DA neurons was found in LPS-injected Tg mice, whereas only 9.2% of non-DA neurons were lost. Collectively, this two-hit PD model recapitulated the signature lesion of PD by its chronic, progressive, and selective neurodegeneration of nigral DA neurons.
LPS-elicited chronic neuroinflammation exerts progressive ascending neurodegeneration and behavioral changes
The involvement of neuroinflammation in the pathogenesis of PD was identified decades ago. Positron emission tomography (PET) imaging reveals prominent and heterogeneous neuroinflammation in the brains of patients with PD[44,45]. Strong evidence indicates that LPS-induced chronic neuroinflammation is sufficient to not only induce nigral DA neurodegeneration[35,46,47] but also drive progressive loss of other vulnerable neuronal populations outside the basal ganglia. Mechanistically, LPS-generated sub-lethal septicemia in the periphery is able to activate microglia, resulting in low-grade chronic neuroinflammation in the brain for the remaining lifetime of the mice[35]. The pattern of delayed neurodegeneration in this model is dissimilar to that of the intracranial LPS model that produces acute neurodegeneration. Chronic neuroinflammation elicited by systemic LPS injection enables steady production of cytotoxic factors to damage bystander neurons. In turn, damaged/dying neurons can re-active neighboring microglia through the release of danger-associated molecular pattern (DAMP), forming a self-propelling cycle that eventually leads to sustained neuronal damage[48] .
How does a single intraperitoneal injection of LPS induce long-lasting brain inflammation and progressive neuronal loss?
An intriguing question arises: why can a single injection of LPS produce such robust and long-lasting effects in the brain, since the half-life of LPS in mouse blood is only approximately 12 h[49]? It is well-documented that, under the physiological conditions, very minimal LPS can enter to the brain due to the poor passage through BBB[50]. Therefore, LPS-induced neuroinflammation appears to be an indirect effect. Studies showed that a single intraperitoneal LPS injection initially produced large amounts of proinflammatory cytokines or chemokines from Kupffer cells, the resident macrophage-like cells in the liver[51]. We found that the levels of cytokines in blood were greatly elevated at early times but declined to basal levels by 6-9 h. Remarkably, proinflammatory levels and microglial activation sustained in the brain for up to 10 months. Further mechanistic studies revealed that blood immune factors can pass through BBB[52]. After entering to brain parenchyma, these proinflammatory factors can activate microglia to continually produce more cytokines, reactive oxygen, and nitrogen species and other cytotoxic factors[35]. These microglia-generated toxic factors cause neuronal damage to release DAMPs, which further reactivate microglia. Through this process, a vicious cycle is formed to maintain neuroinflammation and cause additional neuronal loss [Figure 1].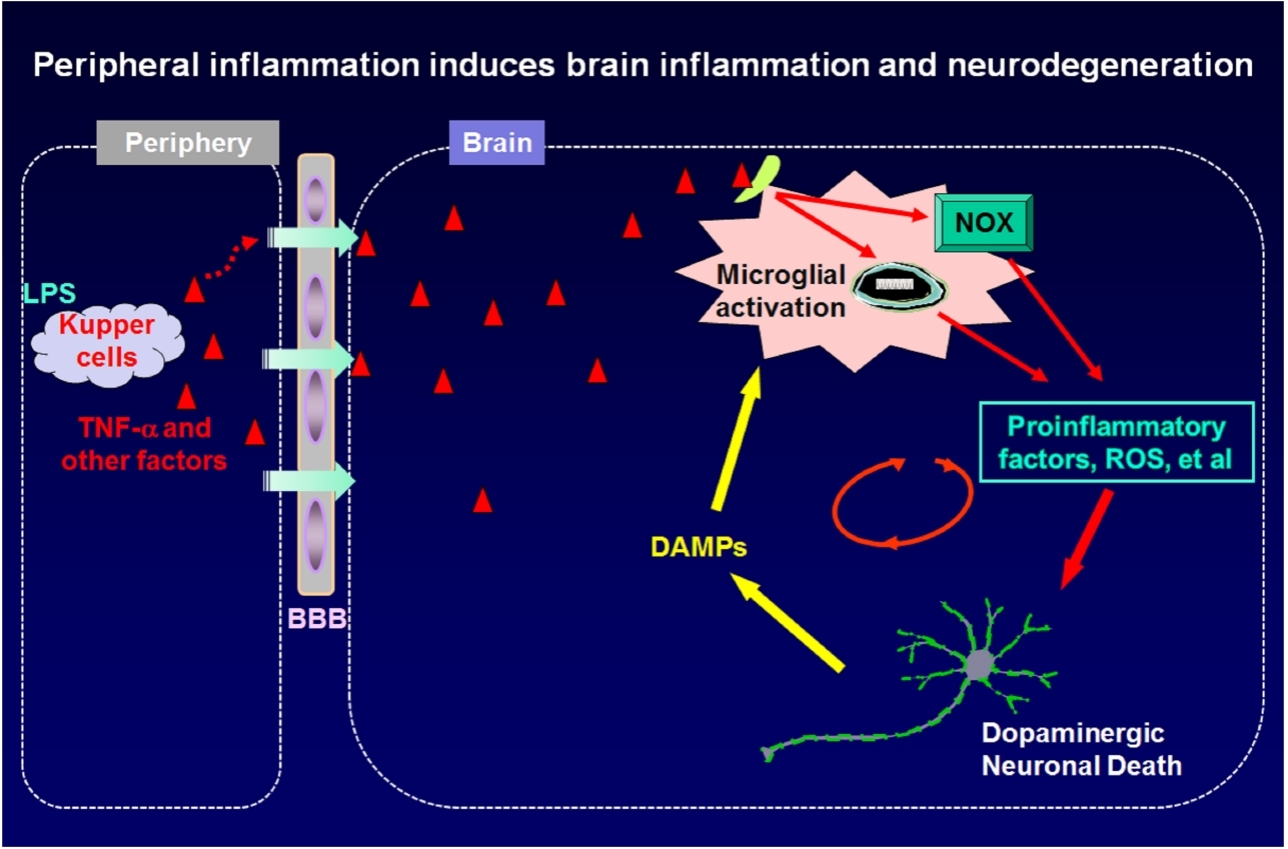 Figure 1. How does a single ip injection of LPS induce long-lasting brain inflammation and produce progressive neuronal loss? LPS reaches the liver via the portal vein circulation and causes it to secrete large amounts of various cytokines, such as TNFα. Some of these cytokines can pass through BBB by receptor-mediated mechanisms to activate microglia and produce additional proinflammatory factors to cause neuron damage. DAMP released from damaged neurons further reactivate microglia to from a self-propelling vicious cycle to maintain chronic neuroinflammation and lead to neurodegeneration. (This figure was modified from our previous paper with permission[136]).
To further investigate the mechanism of transition of chronic neuroinflammation from the periphery to the brain, mice were administered with TNFα peripherally. The results show that both TNFα and LPS injections elevated the production proinflammatory factors (TNFα, MCP-1, and IL-1β) in the brain. Further, mice deficient in TNFR1/R22/2 receptors failed to show brain neuroinflammation in response to LPS and TNFα challenges, supporting that TNFα was one of the critical factors in bridging inflammation from the periphery to the CNS. Long-lasting and enhanced microglial activation, indicated by the immunohistochemical analysis of brain sections with anti-Iba-1 or anti-CD11b antibodies, was observed in brain regions, such as the SN, hippocampus, and motor cortex. The LPS-elicited long-lasting inflammatory and neurotoxic effects in the brain were consistent with previous findings. Exposed to MPTP, a selective DA neurotoxicant, in humans[53] and monkeys[54], led to sustained microglial activation up to years after exposure. In addition, in utero LPS exposure during a critical window of development (E11) rendered a 30% loss of nigral DA neurons in offspring at the age of seven months[55]. Taken together, these findings suggest that early or brief exposure to toxins/toxicants can induce chronic, self-propelling neuroinflammation and lead to progressive neurodegeneration.
Rotenone model
Rotenone, a previously widely used pesticide, reproduces Parkinsonism associated with increased risk for PD. Since the first publication by Greenamyre et al.[8], rotenone has been commonly used as a tool to create a rodent PD model[8]. Chronic rotenone exposure in rodents induces key features of Parkinsonism[56]. Mechanistically, rotenone is believed to impair mitochondrial complex I[57,58] and microtubule-based transport of neurotransmitter vesicles[59,60]. Although the role of mitochondrial complex I deficits has been demonstrated in rotenone-induced Parkinsonism[8,56], inhibition of mitochondrial complex I appears not to be the only mechanism for rotenone-induced DA degeneration[61]. A mouse strain lacking functional Ndufs4, a gene encoding a subunit required for complete assembly and function of complex I, has been used to further address this issue. Genetic ablation of Ndufs4 gene suppressed complex I activity but did not affect DA neuron survival in midbrain cultures prepared from E14 mice[61].
The involvement of microglia in mediating rotenone-elicited neurotoxicity has also been reported. In midbrain neuron and glia cultures, rotenone showed much higher potency in reducing the survival of DA neurons than that in neuron-enriched cultures[62]. Further studies revealed that microglial NADPH oxidase 2 (NOX2)-derived superoxide markedly exacerbated DA degeneration in rotenone-treated cultures[63], suggesting that microglial NOX2 is an alternative target of rotenone. This finding was further confirmed by a study showing that rotenone directly interacted with the catalytic gp91phox subunit of NOX2[64].
The involvement of microglia in generating NOX2-dependent superoxide in rotenone-treated neuron-glial cultures further suggests a critical role of neuroinflammation in rotenone-induced neurotoxicity. Indeed, a recent report indicated that daily intraperitoneal injections of rotenone for three weeks produce microglia-dependent neuroinflammation in mouse brain[65,66]. Moreover, not only was neuronal loss observed in the SN area, but it also showed a greater loss of LC/NE neurons[65]. Mechanistic studies unraveled that the integrin Mac1/NOX2 complex is a major pathway coupling the production of superoxide and neuroinflammation in rotenone-treated mice[65]. These results provide a novel insight into the pathogenesis of rotenone-induced neurodegeneration. However, how the microglial NOX2 activation is related to the inhibition of mitochondria dysfunction in the rotenone PD model is an interesting but not yet studied question.
Paraquat/maneb model
Paraquat and maneb, two pesticides used in agriculture, are commonly used in many of the same crops. Epidemiological studies revealed an increased risk of PD in human when exposed to combined paraquat and maneb compared with either alone. Paraquat and maneb cotreatment has been widely employed to model PD in rodents. Systemic administration of combined paraquat and maneb led to synergistic damage to nigrostriatal DA neurons and reduction of motor activities in mice[41]. In addition to the DA system, paraquat and maneb co-exposure also damaged neurons in other brain regions and followed a time-dependent ascending neurodegenerative pattern. We recently reported that paraquat and maneb co-treated mice displayed loss of LC/NE and nigral DA neurons at four weeks after exposure, which was two weeks earlier than that of hippocampal and cortical neurodegeneration[40,67,68]. Consistent with sequential neurodegeneration, paraquat and maneb co-exposure induced gait abnormality and cognitive decline in mice at four and six weeks after treatment, respectively[40,67]. Interestingly, inhibition of microglial activation and production of inflammatory factors by targeting CD11b, the α-chain of Mac-1, or NOX2 significantly mitigated combined paraquat- and maneb-induced neurodegeneration and behavioral abnormalities in mice[40,68,69]. Furthermore, attenuated neuronal damage in paraquat- and maneb-treated mice was also observed once these mice were co-administered with taurine, a major intracellular free β-amino acid with potent anti-inflammatory capacity[67,70,71]. Altogether, these findings suggest that microglia-mediated neuroinflammation contributes to progressive neurodegeneration in this two-pesticide-induced mouse PD model.
NOX2 IS A KEY PLAYER IN DISEASE PROGRESSION AND PRIME TARGET FOR DEVELOPING DISEASE-MODIFYING THERAPY
Recent studies revealed a critical role of microglial NOX2-derived ROS in initiating neuroinflammation-mediated oxidative damage and progressive neurodegeneration[121]. Neuroinflammation has been widely accepted as a crucial contributor to progressive neurodegeneration in a broad spectrum of neurodegenerative diseases[78,122,123]. Microglia can be activated by a wide range of stimuli that are able to disrupt brain homeostasis, such as infection, ischemia, trauma, toxic insults, or autoimmune injury.
Once activated, microglia release innumerable cytotoxic factors, including cytokines, chemokines, proteases, excitatory amino acids, eicosanoids, and ROS. NOX2-derived superoxide has been recognized as one of the most crucial players in chronic progressive neurodegeneration[78,122,123]. Those microglial NOX2-derived ROS (H2O2 and peroxynitrite) can directly enter neurons, resulting in impaired mitochondrial integrity, reduced ATP production, and increased mitochondria-derived ROS. They also cause a series of damages to enzymes and other proteins through oxidation, nitration, aggregation, or accumulation (e.g., a-synuclein). By dysfunction of the ubiquitin-proteasome system, ROS will not only reduce protein degradation but also exaggerate abnormal protein accumulation. Moreover, the impaired redox-sensitive signal transduction, products of oxidated DNA, RNA, and lipids, and/or ROS-induced autophagy also play a role in oxidative neuronal damages during neuroinflammation[10,124,125].
Role of dysregulated NOX2 in PD
It has been reported that the increase in microglial NOX2 was found in the SN of both PD patients and mouse PD models[126]. In line with those pathological examinations, a crucial role of microglial NOX2 activation in driving DA neurodegeneration has also been extensively studied[78,127]. For example, in a microglia and DA neuron co-culture system, the mis-folded α-synuclein is able to kill DA neurons by activating microglial NOX2 to release ROS[128]. Moreover, the presence of microglia exacerbates DA neurodegeneration following diverse challenges, including fMLP and LPS, angiotensin II and nanometer-sized diesel exhaust particles, PD-producing neurotoxins (6-OHDA, MPTP, and MPP+), and PD-associated pesticides (paraquat and rotenone); such neurodegeneration could be alleviated by NOX2 deletion, diphenyleneiodonium (DPI), or apocynin[129]. In addition, the release of DAMPs and other cellular components to the extracellular space, such as high-mobility group box 1, the active form of matrix metalloproteinase-3, or aggregated α-synuclein, could trigger reactive microgliosis and release NOX2-dependent ROS production, which further facilitates DA neurodegeneration[46]. In a MPTP-induced mouse PD model, minocycline-induced neuroprotective effects were achieved by inhibition of microglial activation and membrane translocation of p67phox[130]. Furthermore, the neurotoxic effects induced by either systemic administration of MPTP or intra-nigral injection of LPS were significantly suppressed in NOX2-deficient mice in comparison to WT mice[131].
NOX2 is a prime target for anti-inflammatory therapy
Chronic aberrant neuroinflammation, a ubiquitous feature among a variety of neurodegenerative diseases, has been targeted as a disease-modifying strategy for halting the diseases progression[120,132-134]. However, little progress has been made on the ground due to the lack of knowledge pinpointing the immune factors released during chronic neuroinflammation. Recent studies suggest that blocking the superoxide/ROS-generating enzyme NOX2 ameliorates neuroinflammation and reduces neurodegeneration[132].
A NOX2 inhibitor DPI has served as a useful tool to demonstrate the advantages of targeting NOX2 as a prime target for therapy. DPI is a widely used NOX2 inhibitor. However, commonly used concentrations (1-10 µM) of DPI are highly toxic in cell cultures and animals, thus preventing its use in humans. We discovered that an ultra-low dose of DPI (10 ng/kg/day) displayed potent anti-inflammatory and neuroprotective effects in LPS-treated mice[132]. Furthermore, post-treatment of DPI to LPS-treated mice that already shown marked loss of nigral DA neurons and motor symptoms could effectively stop the remaining neuronal population from degeneration and largely restore motor functions[132]. The dopaminergic neuroprotective effects of low-dose DPI, even in a post-treatment regimen, were also detected in an MPTP-induced mouse PD model[132]. Recent studies using similar post-treatment regimens demonstrated the same efficacy of DPI in DSP-4 injected mice[36]. DPI greatly reduced microglial activation, decreased oxidative stress, and most importantly protected DA neurons. Collectively, these findings suggest that DPI is effective at protecting neurons in either infectious agent (LPS)- or non-infectious agent (DSP-4)-induced mouse PD models, suggesting that targeting NOX2 can be a novel and promising therapeutic strategy for PD.
In addition to targeting microglial NOX2, the use of β-AR agonists has also been tried as a potential therapy for PD. It is worth noting that, in LPS-injected mice, post-treatment with the β2 adrenergic receptor (β2-AR) agonist salmeterol significantly rescued DA neurons and improved motor function deficits[120]. Results from these animal studies corroborate a recently published human study. A meta-analysis showed that asthmatic patients prescribed with salbutamol, a β2-AR agonist, had significantly reduced lifetime risk of developing PD[135].
CONCLUSIONS
This review provides clear and convincing evidence to demonstrate that low-grade chronic neuroinflammation is a key factor leading to the progressive neurodegeneration in PD. The reduction of brain NE resulted from the lesion of LC/NE neurons is sufficient to initiate and maintain chronic neuroinflammation, which is associated with progressive, massive, and sequential loss of vulnerable neurons that are sensitive to oxidative damage. Dysregulated microglial NOX2 plays a critical role in generating and maintaining chronic neuroinflammation, oxidative stress, and subsequent neurodegeneration among vulnerable brain regions. NOX2 may serve as a prime target for developing promising disease-modifying therapeutic strategies for PD.
DECLARATIONS
Authors' contributions
Preparing the first draft: Wang QS, Hong JS
Made substantial contributions to conception and revised manuscript: Song S
Give critical comments: Jiang LL
Availability of data and material
Not applicable.
Financial support and sponsorship
None.
Conflicts of interest
All authors declared that there are no conflicts of interest.
Ethical approval and consent to participate
Not applicable.
Consent for publication
Not applicable.
Copyright
© The Author(s) 2021.