INTRODUCTION
Autophagy is a term used to describe three pathways that deliver cytoplasmic contents to lysosomes for digestion and recycling. These include microautophagy, chaperone-mediated autophagy (CMA), and macroautophagy. The three pathways coexist in most mammalian cells and differ in their modes of delivery of cytoplasmic cargo to the lysosomal compartment. In brief, microautophagy involves direct delivery of cytosolic components to the lysosome by invagination of the lysosomal membrane[1], while CMA involves selective translocation of cytoplasmic proteins with a KFERQ peptide motif into the lysosomal lumen for degradation[2]. In macroautophagy, the cytoplasmic cargo, which can include proteins and organelles, is sequestered and engulfed by double-membraned, cup-shaped structures known as phagophores that elongate and extend around the intracellular content to form an autophagosome. Autophagosomes ultimately fuse with lysosomes to become autolysosomes, after which the degradative enzymes degrade the autophagic contents. In this review, we will focus on macroautophagy (hereafter referred to as autophagy).
Autophagy can be divided into selective and non-selective forms of autophagy[3]. Non-selective autophagy (often referred to as bulk autophagy) is considered in lacking cargo specificity and can be induced by various cellular stimuli, such as energy and nutrient deprivation. Selective autophagy increases the likelihood of cargo capture and can degrade aggregate-prone proteins (aggrephagy), intracellular pathogens (xenophagy), damaged mitochondria (mitophagy) and lysosomes (lysophagy), excess peroxisomes (pexophagy), and dysfunctional endoplasmic reticulum (ER-phagy).
Since it was first discovered in yeast as a survival mechanism[4], it has become evident that autophagy is important for a variety of biological processes. Interestingly, perturbation of both selective and non-selective forms of autophagy has been associated with ageing and numerous age-related disorders, such as inflammation, cancer, diabetes and neurodegenerative diseases[5].
The susceptibility of neurons to accumulate defective organelles and proteins due to their post-mitotic nature and the age-related decline in autophagic capacity appears to create an unfortunate paradox that puts autophagic dysfunction at the center of many neurodegenerative diseases where accumulation of toxic aggregated proteins is a hallmark and a causal factor for the disease pathogenesis'. Additionally, variants/polymorphisms in autophagy genes have been implicated in numerous age-related neurodegenerative diseases, including Alzheimer's disease (AD), Parkinson's disease (PD), Huntington's disease (HD) and amyotrophic lateral sclerosis/frontotemporal dementia (ALS/FTD) and may contribute to the accumulation of toxic intracellular protein aggregates in the brain. This has led to interesting questions regarding the potential of autophagy induction as a treatment against age-related diseases.
In this review, we will describe the evidence of autophagy dysfunction in ageing and age-related disorders and the potential of autophagy upregulation as a therapeutic strategy for the functional decline associated with ageing and neurodegenerative disorders.
AUTOPHAGY AND NEURODEGENERATIVE DISEASES
Intracellular protein misfolding and aggregation are common features of the abovementioned late-onset neurodegenerative diseases, also referred to as proteinopathies. The Mendelian mutations that cause proteinopathies frequently lead to toxic gain-of-functions in the disease-associated proteins, the expression of which correlate with disease severity. It has become increasingly evident that a given proteinopathy can be caused by various mutations that disturb different parts of the autophagic machinery [Figure 1 and Table 1]. Thus, it is critical to understand the cellular impact of the mutations that cause age-related neurodegenerative diseases. Additionally, since the toxic aggregated proteins associated with the proteinopathies are substrates for autophagy, upregulation of autophagy or prevention of the age-related functional decline in autophagy may prove to be valuable as a therapeutic strategy.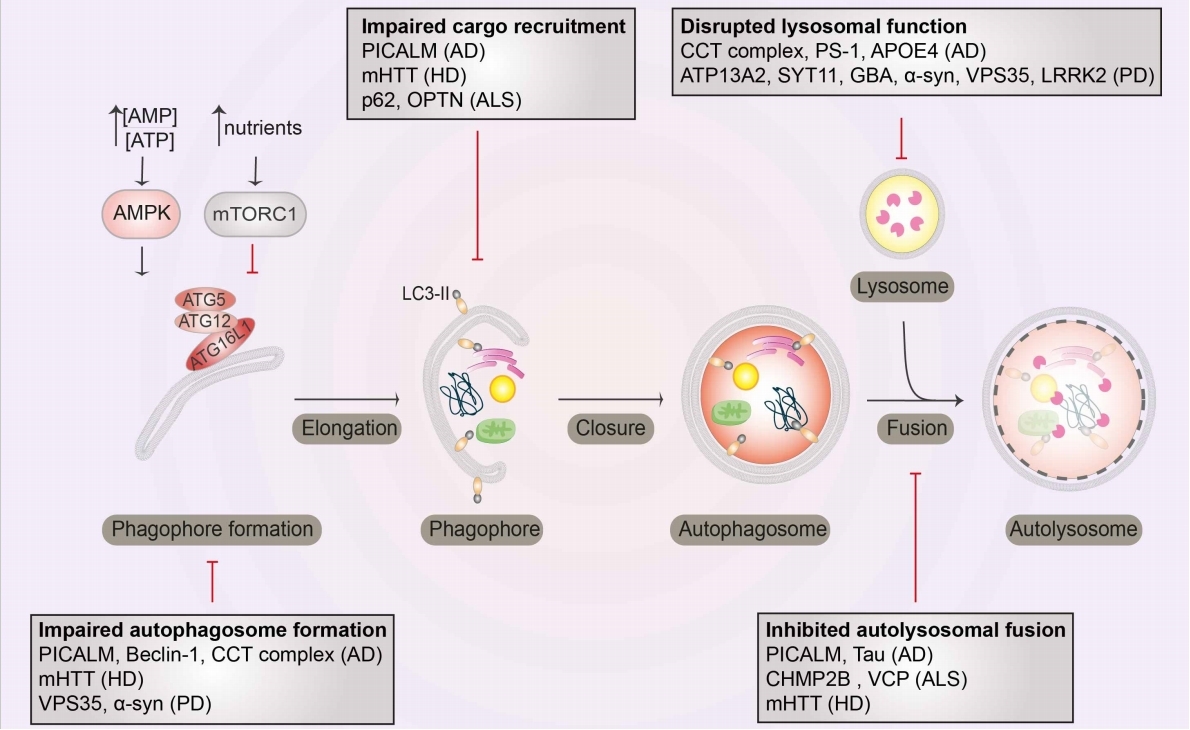 Figure 1. Disruption of autophagy machinery in neurodegenerative diseases. Numerous genes implicated in neurodegenerative diseases such as AD, HD, PD and ALS have been associated with autophagy. These genes disrupt different parts of the autophagic machinery, including autophagosome formation, cargo recruitment, lysosomal function or autolysosomal fusion.
Table 1
Selected pathophysiological mechanisms related to autophagy impairment in AD, PD, HD and ALS
Autophagosome formation
Cargo recruitment
AP-lysosome fusion
Lysosome function
AD
· PICALM depletion in AD brains inhibits autophagosome formation
· Reduced Beclin-1 levels cause decreased autophagosome biogenesis
· CCT complex impairment reduces autophagosome formation
· PICALM depletion inhibits cargo recognition
· Loss-of-function of PICALM impairs the fusion of autophagosomes with lysosomes in a VAMP8-dependent process
· Reduced CCT/TRiC complex expression in AD brains blocks autophagosome delivery
· Tau accumulation disturbs the integrity of lysosome membranes and impairs autophagosome maturation by inhibiting HDAC6
· Decreased CCT/TRiC complex level in AD brains blocks lysosomal degradation
· APOE4 variant increases Rab5-mediated endocytosis and causes non-degraded lipids and proteins to accumulate in swollen lysosomes.

PD
· VPS35 mutation causes ATG9 mislocalisation and inhibits autophagosome formation
· Overexpression of α-syn in vitro and in vivo results in compromised autophagosome biogenesis through Rab1 inhibition, causing mislocalisation of ATG9
· Inclusion bodies containing α-syn inhibit autophagosome maturation and fusion with lysosomes, resulting in decreased protein degradation
· Depletion of ATP13A2 leads to decreased SYT11, which results in lysosomal dysfunction
· iPSC-derived neurons from PD patients with GBA mutations showed increased α-syn levels, as well as autophagic and lysosomal defects
· Accumulation of α-syn aggregates in the nervous system causes lysosomal impairment
· PD mutation in LRRK2 G2019S induces defective lysosomal positioning mediated by Rab7 and enlarged lysosomes containing nondegraded contents
HD
· mHTT impairs autophagosome biogenesis
· mHTT causes defects in cargo recognition by inhibiting organelle sequestration
· mHTT perturbs post-Golgi trafficking to lysosomes, leading to dysfunctional autophagosome/lysosome dynamics
ALS
· ALS-associated L341V p62 exhibits defective binding to the core autophagy protein LC3 and impaired recruitment to autophagosomes
· ALS/FTD-causing mutations of TBK1 impair binding and phosphorylation of optineurin, leading to reduced autophagy substrate recognition and clearance
· Truncated CHMP2B blocks autophagy flux in cultured primary neurons from rat cortex and photoreceptor neurons in Drosophila eye sections
· R155H mutation of VCP disrupts clearance of damaged lysosomes by autophagy

Ageing
· Reduced autophagosome formation in liver tissue from aged mice
· Aged C. elegans has a dysfunctional late autophagic flux
Alzheimer's disease
AD is a progressive neurodegenerative disorder characterized by two main pathological hallmarks: the extracellular deposit of amyloid-β (Aβ) plaques and the intracellular accumulation of hyperphosphorylated tau tangles[6]. There is a complex interplay between Aβ and autophagy, as autophagy controls both the clearance and generation of Aβ. On the one hand, upregulation of this clearance pathway can reduce the accumulation of amyloid plaques and rescue neurodegeneration in various systems[7-9]. On the other hand, Aβ may also be generated in autophagosomes, which appear to contain both the precursor [the amyloid precursor protein (APP)] and the enzyme Presenilin-1 responsible for the cleavage of APP to Aβ[7,10]. Furthermore, autophagy is critical for the extracellular secretion of Aβ peptides, as conditional knockout of the key autophagy gene, Atg7, in APP transgenic mice carrying the Swedish mutation was shown to cause less extracellular Aβ secretion and fewer extracellular Aβ plaques. However, these events were associated with toxic intracellular aggregation of Aβ, which likely causes neurodegeneration, and together with amyloidosis, memory deficit[11]. Besides Aβ, there is also a link between hyperphosphorylated tau and autophagy. Despite being substrates of the ubiquitin-proteasome system, tau proteins are delivered to the autophagosome-lysosomal system for degradation, as autophagy impairment leads to the formation of tau oligomers and accumulation of tau insoluble species[12]. Indeed, autophagy-inducing drugs like verapamil or felodipine induce the clearance of tau in a zebrafish system[13]. Furthermore, autophagy impacts tau phosphorylation: autophagy-deficient mice display hyperphosphorylated tau, while autophagy induction reduces tau phosphorylation[14-16]. Interestingly, tau per se modulates the autophagy pathway, with tau accumulation disturbing the integrity of lysosome membranes and retarding autophagosome maturation by inhibiting the activity of histone deacetylase 6[15].
AD-associated mutations have been found to affect the three main steps of the autophagy pathways: autophagosome synthesis, trafficking, and maturation/degradation[17,18].
The expression of Beclin-1, an essential participant in autophagosome biogenesis, is decreased in the affected brain regions of AD patients compared to healthy individuals, likely due to its increased proteolytic cleavage mediated by caspase 3, which is highly activated in AD brains[19]. Since a decline in Beclin-1 activity leads to a decrease in autophagosome synthesis, this is associated with ageing and neurodegeneration[20].
Genome-wide association studies in AD identified variants of phosphatidylinositol binding clathrin assembly protein (PICALM), which also shows accelerated cleavage and, consequently, loss-of-function, in AD[21,22]. PICALM is a clathrin adaptor protein, whose loss-of-function impairs endocytosis of VAMP2 and VAMP3 (soluble NSF attachment protein receptors - SNAREs involved in the fusion of autophagosome precursors), as well as VAMP8 (involved in the fusion of autophagosomes with lysosomes/late endosomes). Thus, PICALM depletion in AD brains inhibits autophagy at multiple steps: from autophagosome biogenesis to maturation and fusion steps, ultimately leading to tau accumulation[17,23].
Studies based on mouse and cell models of AD have reported that the trafficking of autophagy-related compartments is selectively defective[24]. Inhibiting the microtubule-mediated retrograde transportation of autophagosomes towards lysosomes (from the distal axonal regions towards the soma) leads to the rapid accumulation of immature autophagosomes in neurites, a morphology similar to that observed in the AD brains[7]. Tau is known to be critical for this retrograde vesicle trafficking as it regulates the assembly and stabilization of neuronal microtubules[25]. Importantly, tau gains a toxic function in AD models, generating neurofibrillary tangles, which may negatively impact neuronal vesicle trafficking[26]. Reduced expression of the chaperonin CCT/TRiC complex, an important chaperone that assists the proper folding of tau, was found in the affected brain regions of AD patients[27,28]. Apart from its direct action on tau, CCT is essential for maintaining the cytoskeleton structure in neurons and consequently to ensure proper trafficking of autophagosomes and their ultimate fusion with lysosomes. CCT impairment, by blocking autophagosome delivery/degradation, causes the accumulation of long-lived proteins and autophagy substrates, such as p62[27].
In addition to the aforementioned factors regulating autophagic flux (PICALM and CCT), mutations of Presenilin-1 (PS1), known to cause early-onset familial Alzheimer's disease, impair autophagosome maturation/degradation via dysfunction of the lysosomal V-ATPase in patient-derived cells[29]. Besides its role in the APP cleavage to Aβ as part of the γ-secretase complex, PS1 regulates N-glycosylation of the V-ATPase subunit VoA1 essential for lysosomal acidification and subsequent degradation of autophagic content. Abnormally increased levels of acid sphingomyelinase (SMase) in AD brains lower TFEB levels by promoting its proteolysis[30]. Conversely, chemical inhibition of this SMase with amitriptyline increased the degradation of p62 and LC3-II, and delayed the disease development in APP/PS1 mouse models of AD[17,30]. Additional genetic risk factors for AD, such as the APOE4 variant, mutant APP or APP duplication, increase Rab5-mediated endocytosis and cause non-degraded lipids and proteins to accumulate in swollen lysosomes. Indeed, AD mice models show lysosomal dysfunction with subsequent accumulation of autophagy substrates[7,10].
Autophagy modulation as therapy in AD
Autophagy induction may be a promising therapeutic strategy in AD [Table 2]. Autophagy stimulation can be achieved either chemically [using mechanistic target of rapamycin (mTOR)-dependent or -independent small molecule autophagy enhancers] or through gene therapy approaches, as summarised below[6,31].
Table 2
Therapeutic strategies to modulate autophagy and their effects on disease models (see main text for references)
Mechanisms of drugs
Examples
Rapamycin:
mTOR inhibition
AD: Rapamycin and other rapalogs reduce the levels of hyperhosphorylated tau and Aβ, and improve cognitive and memory deficits in AD mice and Drosophila
PD: Rapamycin treatment increases the clearance of mutant α-syn and attenuates toxicity in PC12 cells, dopaminergic neurons and PD animal models
HD: Rapamycin and its derivatives facilitate clearance of PolyQ aggregates and reduce toxicity in HD Drosophila and mice
ALS: Rapamycin treatment decreases TDP-43 inclusions and forebrain neurodegeneration in a FTD mouse model. Rapamycin also reduces neuronal TBPH aggregates in an ALS Drosophila model, as well as partially rescuing lifespan and locomotor defects in these animals
Ageing: Rapamycin increases mortality in mice and life extension in Drosophila
SMERs:
mTOR-independent autophagy
PD: SMERs induce autophagic clearance of A53T α-syn in vitro independently of mTOR
HD: SMERs trigger the elimination of mHTT aggregates and ameliorate toxicity in cell culture and in HD Drosophila models

Metformin, bosutinib, nilotinib:
AMPK activation
AD: Metformin, bosutinib and nilotinib prevent the degeneration of dopaminergic neurons, the loss of which affects cognitive and non-cognitive functions in a Tg2576 AD mice
PD: Metformin reduces levels of phosphorylated α-syn Ser129 and rescues mitochondrial dysfunction in SH-SY5Y and Drosophila models
Nilotinib partially rescues disease phenotypes in both A53T and PD mice and improves cognitive and motor skills in PD patients
Resveratrol induces α-syn clearance, possibly via interaction with SIRT1 in SH-SY5Y and PC12 cells
HD: Metformin significantly clears PolyQ aggregates and improves motor and behavioural dysfunction in PolyQ disease mice
Trehalose:
AMPK activation
AD: Trehalose induces tau clearance and neuronal survival in AD tauP301S mice
ALS: Trehalose ameliorates early motor phenotypes in the G93A SOD-1 ALS mice, but fails to delay end-stage motor phenotypes
HD: Trehalose enhances the degradation of mHTT aggregates in HD mice
Lithium, Clonidine, rilmenidine:
IP3-Ca2+-AMPK axis
AD: Lithium reduces tau phosphorylation and the formation of Aβ plaques in pre-pathological AD mice. Clonidine and rilmenidine induce mutant tau clearance and ameliorate motor defect in A152T tau zebrafish
PD: Lithium increases the clearance of A53T and A30P mutant α-syn in inducible PC12 cell models and ameliorates phenotypes associated with PD in aged Parkin mutant tg mice
HD: Clonidine enhances removal of aberrant mHTT aggregates in HD in an mTOR-independent manner
Felodipine, verapamil:
Ca2+-AMPK axis
AD: Felodipine and verapamil improve the clearance of insoluble tau and ameliorate the morphological defects seen in two transgenic zebrafish tauopathy models
PD: Felodipine decreases the levels of A53T α-syn in a PD mouse model and ameliorates neurodegeneration
HD: Felodipine decreases mHTT in a HD mouse model and ameliorates signs of disease
A-705253:
Calpain inhibition
AD: A-705253 improves clearance of hyperphosphorylated tau and Aβ and has beneficial cognitive effects in 3xtg AD mice
HD: Downregulation of Calpain decreases mHTT aggregates and is neuroprotective in HD mice and Drosophila
The first group of chemical compounds, which inhibit the negative autophagy regulator mTOR, such as rapamycin and other rapalogs (eg. temsirolimus), reduce the levels of hyperhosphorylated tau and Aβ, and consequently ameliorate the cognitive and memory deficits in multiple AD model mice (such as P301S mutant tau and PDAPP transgenic mouse models[32,33]), likely due (at least in part) to autophagy activation in neurons[34]. Rapamycin also reduces tau toxicity and increases the life-span of Drosophila (Drosophila Melanogaster) expressing wildtype or mutant R406W tau, as a result of enhanced autophagic clearance of soluble and insoluble tau[35].
The second group of compounds mainly comprises the class of small molecule enhancers of autophagy that often signal through AMPK, which directly phosphorylates the AMPK substrate ULK1 and thereby induces autophagy[36]. These molecules may be either direct AMPK modulators (such as metformin, bosutinib, nilotinib) or indirect upstream activators acting by lowering mitochondrial ATP production and/or intracytoplasmic Ca2+ levels[37,38]. The direct AMPK modulators show beneficial effects in multiple transgenic APP mouse models[39,40] and prevent the degeneration of neurons producing dopamine, a neurotransmitter involved in the regulation of cognitive and non-cognitive functions in a Tg2576 AD mouse model[41]. Thus, several of these AMPK-stimulating compounds have progressed to pilot clinical studies for AD, where metformin has shown promising early results with improved memory and executive function[42,43].
The second group of compounds comprises a continuously growing list of molecules. Among them, the disaccharide trehalose activates AMPK by lowering ATP production by inhibiting GLUT transporters, and was shown to enhance the clearance of tau aggregates[44-46]. The clearance of autophagy substrates can also be upregulated by a class of mood-stabilizing drugs, including lithium[45,47]. Lithium administration results in lowering of the Ca2+ levels in the cytoplasm by reducing the intracellular levels of IP3, decreasing the mitochondrial uptake of Ca2+ and consequently ATP production, causing AMPK activation[48]. Lithium additionally upregulates autophagy by inhibiting GSK3β, reducing the phosphorylation of tau and the formation of Aβ plaques in pre-pathological AD mouse models (APPswe/PS1A246E)[49]. In clinical trials, lithium treatment showed reduced cognitive decline over a two year period compared to the placebo group, accompanied by enhanced Aβ clearance from the brain[50]. Other molecules that likely signal through the IP3-Ca2+-AMPK axis include the class of imidazoline receptor agonists, such as clonidine and rilmenidine[51]. Treatment with these two drugs increase the clearance of mutant tau and ameliorate the motor and morphological defects in an experimental zebrafish model expressing the human A152T disease-associated tau variant[52]. Another class of compounds, the L-type Ca2+ channel antagonists (felodipine and verapamil) block the influx of extracellular Ca2+ and likely activate autophagy via the aforementioned Ca2+-AMPK axis. Consequently, apart from their antihypertensive effects, these drugs improve the clearance of insoluble tau and ameliorate the morphological defects seen in two transgenic zebrafish tauopathy models[53]. Elevated intracytosolic Ca2+ levels activate calpains, which inhibit autophagy. The calpain inhibitor A-705253 improves clearance of hyperphosphorylated tau and Aβ and has beneficial cognitive effects in a triple transgenic AD mouse model (bearing disease-associated mutations in three genes: PS1M146V, APPswe, TauP301L)[54].
While the described chemical compounds that upregulate autophagy offer clear beneficial effects in multiple AD in vivo models, it is important to acknowledge that many of these compounds may also exert beneficial effects via autophagy-independent mechanisms. Thus, targeting key autophagy genes through genetic approaches may enable more specific therapeutic strategies.
One of the most common strategies to genetically stimulate autophagy is by lentiviral-mediated overexpression of BECN1, which encodes Beclin-1[19]. This strategy ameliorates the amyloid pathology in the hippocampus and cortex of APP transgenic mice. Beclin-1-mediated autophagy has also been successfully induced by lentiviral Parkin transduction and was shown to clear intracellular Aβ in a triple transgenic AD mouse model (mutations in three genes: PS1M146V, APPswe, TauP301L)[55]. Another elegant approach, using a knock-in point mutation in BECN1(F121A) that blocks the interaction with its canonical inhibitor Bcl-2, causes a significant reduction in Aβ levels and increases the life-span of 5xFAD mice (expressing a combination of 5 familial AD mutations in human PS1 and APP genes)[56]. Similar to BECN1 overexpression, ATG5-induced autophagy ameliorates the morphological defects and enhances the tau clearance in an A152T tau zebrafish model[52].
AD is a complex disease that results in impairment at multiple steps in the autophagy pathway, from autophagosome biogenesis to lysosomal functioning. In the AD scenarios with compromised autophagosome degradation within lysosomes, overexpression of BECN1 and ATG5 genes mainly induces the formation of autophagosomes, with little effect on lysosomal biogenesis, and has the theoretical potential to lead to the accumulation of nondegraded autophagosomes, which may further worsen pathology (depending on the extent of defective autophagosome clearance). To improve lysosomal function, studies using genetic ablation of cystatin B (an endogenous inhibitor of lysosomal cysteine proteases) successfully alleviated the memory deficits and amyloid pathology in a TgCRND8 mouse model of aggressive AD amyloidosis[57]. Thus, combined approaches that act to enhance overall autophagy flux, by simultaneously upregulating the autophagosome synthesis and improving the lysosomal functioning, would be ideal therapeutic strategies. Therefore, an interesting target for drug development may be TFEB, as this master transcription factor controls the synthesis of both autophagosomes and lysosomes[38,58]. Indeed, TFEB overexpression improves the behavioural defects and enhances the clearance of hyperphosphorylated tau in a rTg4510 mouse model of tauopathy[59].
Parkinson's disease
PD is the most common neurodegenerative movement disorder, primarily associated with progressive loss of motor control, often accompanied by cognitive decline. It is characterized by the presence of intraneuronal inclusions known as Lewy bodies and Lewy neurites enriched with filamentous forms of α-synuclein (α-syn)[60], which is encoded by SNCA. Multiplications of the SNCA locus cause autosomal dominant forms of PD. Levels of α-syn correlate with disease severity[61]. Defective autophagy has been implicated as central in the aetiology and pathogenesis of PD. Similar to AD, mutations causing PD appear to affect different stages of the autophagy itinerary, such as autophagosome biogenesis or fusion with lysosomes[62].
The presence of inclusion bodies containing α-syn affects autophagosome maturation and fusion with lysosomes, resulting in decreased protein degradation[63], suggesting that the presence of α-syn compromises autophagic flux. Overexpression of α-syn in vitro and in vivo results in compromised autophagosome biogenesis through the inhibition of Rab1, causing mislocalisation of ATG9[64]. A mutation in VPS35, which encodes a component of the retromer complex, results in an autosomal dominant form of PD, impairs autophagy, causes ATG9 mislocalisation and inhibits autophagosome formation[65]. A recent study in an α-synucleinopathy Drosophila model suggests that α-syn expression impairs autophagic flux in ageing adult neurons by disrupting the F-actin cytoskeleton[66].
There is increasing evidence of lysosomal defects in PD. Lysosomal impairment has been shown to cause accumulation of α-syn aggregates in the nervous system[67]. Autosomal dominant mutations in the LRRK2 gene appear to affect endosome-to-lysosome trafficking. Overexpression of mutant lrrk, analogous to the most common PD causing mutation in human LRRK2 (G2019S), led to defective lysosomal positioning mediated by Rab7 and enlarged lysosomes containing nondegraded contents[68].
Heterozygous mutations in the gene encoding the lysosomal enzyme glucocerebrosidase (GBA) are the most commonly known genetic risk factors for PD. Induced pluripotent stem cells-derived neurons from PD patients with GBA mutations showed increased α-syn levels, as well as autophagic and lysosomal defects[69].
Furthermore, the PD-associated genes ATP13A2 and SYT11 regulate autophagy through a pathway mediated by TFEB[70]. Depletion of ATP13A2 in vitro has been shown to decrease levels of SYT11. The decrease in SYT11 can account for the lysosomal dysfunction and impaired autophagosome degradation resulting from ATP13A2 deficiency, since SYT11 overexpression in ATP13A2 knockdown cells was able to rescue the autophagy defects in these cells[70].
Autosomal recessive mutations in PINK1 or Parkin, two genes encoding proteins that are key regulators of a form of mitophagy, cause early onset Parkinsonism[71]. While these genes have led to suggestions that impaired mitochondrial quality control may contribute to PD, we have not focussed on this domain in this review focussing on ageing neurodegenerative diseases, as these Mendelian mutations manifest with disease in younger patients.
Autophagy modulation as therapy in PD
Inhibition of mTOR with rapamycin treatment increases the clearance of WT and PD-related mutant forms (A30P and A53T) of α-syn in PC12 cells[72], thereby attenuating toxicity in both dopaminergic neurons[73] and animal models of PD [Table 2][74,75].
Various mTOR-independent autophagy inducers have shown beneficial effects in PD models. Several novel small-molecule enhancers of rapamycin (SMERs) - SMER10, SMER18, and SMER28 - were found to induce autophagic clearance of A53T α-syn in vitro independently of mTOR[76].
Another group of compounds that have shown beneficial effects in PD are AMPK activators. Metformin, a drug currently used in the treatment of type 2 diabetes, reduces levels of Ser-129 phosphorylated α-syn in SH-SY5Y cells expressing α-syn[77] and partially rescues the mitochondrial dysfunction in genetic Drosophila models of PD[78]. Nilotinib, a tyrosine kinase inhibitor, induces autophagy, and partially rescues disease phenotypes in both A53T and lentiviral α-syn overexpression PD mouse models by inhibiting phosphorylation of BCR-ABL[79]. Clinical trials of nilotinib in PD patients showed improved cognitive and motor skills[80]. Resveratrol, a natural plant phenol, induces AMPK-dependent autophagy and α-syn clearance in SH-SY5Y and PC12 cells, possibly via SIRT1, a histone/protein deacetylase that activates autophagy via deacetylation of autophagy proteins[81-83]. The mTOR-independent autophagy inducer lithium increases the clearance of A53T and A30P mutant α-syn in inducible PC12 cell models[47] and reduces phenotypes associated with PD in an aged Parkin mutant transgenic mouse model[84]. In addition to lithium, other mood-stabilizing drugs, such as sodium valproate and carbamazepine, have been shown to induce autophagy in SH-SY5Y cells exposed to rotenone-induced toxicity[85]. Upon treatment with trehalose, autophagy was induced and enhanced clearance of α-syn both in vitro[86] and in vivo[87]. Additionally, felodipine decreases the levels of A53T α-syn in a mouse model of PD and ameliorates neurodegeneration[13].
Huntington's disease
HD is a heritable progressive neurodegenerative disease categorized as a polyglutamine (PolyQ) disease, along with other diseases such, dentatorubralpallidoluysian atrophy, spinal and bulbal muscular atrophy (SBMA), spinocerebellar ataxias (SCA) types 1, 2, 6, 7, 17, as well as Machado-Joseph disease (MJD/SCA3)[88]. Most PolyQ diseases are autosomal dominant except for SBMA, which is an X-linked disorder characterised by neurological, psychiatric and motor symptoms[89].
Each of these PolyQ diseases are caused by abnormal CAG repeat expansions that encode a PolyQ tract within specific genes. The lengths of PolyQ tracts vary in the different PolyQ diseases and cause formation of toxic oligomers and aggregates. Moreover, the length of the PolyQ tracts negatively correlates with the age of disease onset[90]. PolyQ diseases have been associated with dysfunctional autophagy and an altered endo-lysosomal network required for the elimination of aggregates[91].
HD, the most common PolyQ disease, results from an abnormal CAG repeat expansion (> 35 repeats) encoding a PolyQ tract at the N-terminus of the huntingtin (Htt) gene[92]. PolyQ expansions in mutant huntingtin (mHTT) promote the accumulation of perinuclear cytoplasmic aggregates and intranuclear inclusion bodies in neurons[93,94,95]. Defects have been observed at different stages of the autophagy itinerary in Huntington's disease. The non-aggregated mutant huntingtin impacts starvation-induced autophagosome biogenesis by impairing the ability of wildtype ataxin-3 to deubiquitinate Beclin-1 and protect this protein from proteasomal degradation[96]. HD is also associated with defective autophagic cargo recognition[97]. Wildtype HTT acts as a scaffold protein which interacts with autophagy components to facilitate the degradation of selective autophagy cargos[98,99]. Defects in cargo recognition caused by mHTT inhibit organelle sequestration through autophagy and consequently result in abnormal intracellular lipid stores and altered mitochondria in mHTT mice[97]. HTT plays an important role in the regulation for axonal transport of autophagosomes via huntingtin-associated protein-1 (HAP1). In particular, loss of HTT or HAP1 disrupts the retrograde axonal transport of autophagosomes[100]. Retrograde transport is controlled by HTT and the microtubule motor protein dynein. Suppression of dynein inhibits autophagosome-lysosome fusion and aggravates the phenotype in HD Drosophila and mice[101]. Moreover, phosphorylation of HTT by AKT controls anterograde transport via kinesin1 recruitment[102]. Indeed, impaired autophagosome dynamics by mHTT expression also results in the inefficient degradation of dysfunctional mitochondria and mHTT aggregates in HD neurons, indicating that HTT controls its own elimination[100,101]. In addition, mHTT is involved in the regulation of post-Golgi trafficking. mHTT reduces the interaction with the optineurin/Rab8 complex and subsequently perturbs post-Golgi trafficking to lysosomes, which could result in dysfunctional autophagosome/lysosome dynamics[103]. A striatal-specific protein, Rhes, directly binds mHtt and accelerates mHTT-mediated cytotoxicity[104]. In the striatum, Rhes binds to Beclin-1 and promotes the dissociation of Bcl-2 and Beclin-1, leading to autophagy activation. However, mHTT expression interferes with Rhes-mediated autophagy induction[104,105]. Lower levels of Rhes are observed in HD, whereas overexpression of Rhes ameliorates HD-associated phenotypes in mice[105]. The V271A polymorphism in the core autophagy gene ATG7 is associated with earlier onset of HD, suggesting that ATG7 may be implicated in HD, although the exact mechanisms associated with this polymorphisms have yet to be fully elucidated[106]. In addition, PolyQ tracts in mHTT impair mitophagy and have been associated with increased oxidative stress and the accumulation of damaged mitochondria[107]. Interestingly, compensatory upregulation of CMA is observed in the early stages of HD, possibly as response to macroautophagic dysfunction[108].
Autophagy modulation as therapy in HD
Pharmacological and genetic approaches to upregulate autophagy in PolyQ diseases have shown that increased clearance of PolyQ aggregates via autophagy can ameliorate PolyQ disease pathology [Table 2][91]. In contrast, inhibition of autophagy has been shown to cause cytotoxicity as well as increased polyQ aggregates accumulation in vivo[109].
Depletion of mHTT itself in symptomatic HD mice significantly reduced aggregation in the brain. Deletion of the PolyQ tract within HTT (ΔQ-htt) induces mTOR-independent autophagy in neurons. Interestingly, expression of ΔQ-htt in PolyQ-HTT knock-in (Hdh140Q/+) mice has protective effects, decreasing HTT neuropil aggregates, mitigating motor and behavioural defects as well as promoting longevity[110]. mTOR-dependent autophagy activation has been shown to have beneficial effects in PolyQ disease. Rapamycin and its derivatives reduced toxicity. In addition, the rapamycin analogue temsirolimus facilitated clearance of PolyQ aggregates mediated by autophagy activation and rescued pathology in HD Drosophila and mice[109,111]. mTOR-independent autophagy activation via trehalose enhances the degradation of mHTT aggregates. Combination treatment of rapamycin and trehalose synergistically accelerated clearance of mHTT aggregates in HD Drosophila[86]. SMER10, 18, and SMER28, mTOR-independent autophagy inducers, trigger the elimination of mHTT aggregates and ameliorate toxicity in cell culture and in Drosophila HD models[76]. Interestingly, dual treatment SMERs with rapamycin had enhanced protective effects. Lithium treatment decreased soluble and aggregated mHTT, correlating with decreased toxicity[112]. Induction of autophagy in both an mTOR-independent and -dependent manner using a combination therapy of lithium and rapamycin leads to protection against neurodegeneration in an HD Drosophila model[112]. The Gi signalling activator clonidine, which induces mTOR-independent autophagy and regulates cAMP or IP3, enhances removal of aberrant mHTT aggregates in HD[51]. Other autophagy inducers such as berberine, rilmenidine, and metformin significantly clear PolyQ aggregates and improved motor and behavioural dysfunction in PolyQ disease mice[113-115].
Downregulation of calpain induces autophagy, decreasing the number of mHTT aggregates and consequently has neuroprotective effects in HD mice and Drosophila. Although calpain inhibition is neuroprotective in HD mouse models, prolonged brain overexpression of calpastatin, a calpain inhibitor, does not cause obvious deleterious effects in mice[116]. Depletion of the autophagy adaptor protein Alfy exacerbates mutant huntingtin toxicity in mice and HD patient-derived neuronal model[117]. Conversely, overexpression of Alfy induces selective degradation of aggregated proteins as well as neuroprotection in neuronal and Drosophila HD models, suggesting that Alfy-mediated selective autophagy alleviates HD neuropathology[117,118]. Thus, improved cargo recognition by autophagy adaptors may be a potential target for therapeutic strategy.
Expression of TFEB, which promotes lysosome biogenesis and autophagy, leads to increased lysosomal activity in the striatum of HD mice, resulting in decreased levels of mHTT[119]. In addition, a previous study reported that both macroautophagy and CMA function in the degradation of the Htt fragment containing amino acids 1-552. Interactions between mHTT and the CMA components heat shock protein cognate 70 and lysosome-associated protein 2A (LAMP-2A) enable the uptake and lysosomal degradation of Htt-552, whereas inhibition of the CMA pathway suppresses Htt-552 degradation[120]. Acetylation of mHTT by CBP activation or HDAC1 inhibition triggered mHtt degradation and enhanced neuroprotection through the autophagic-lysosomal pathway in primary neurons and Caenorhabditis elegans (C. elegans) HD model[121,122].
ALS/FTD
In recent years, the neurodegenerative diseases ALS and FTD have become widely accepted as divergent presentations of a common neurodegenerative disease process[123]. ALS is characterised by loss of lower motor neurons from the brainstem/spinal cord and upper motor neurons from the motor cortex, while FTD involves loss of neurons from the prefrontal and temporal cortices. However, many patients with ALS exhibit symptoms traditionally associated with FTD (cognitive impairment and behavioural changes) and patients with FTD can develop motor neuron involvement resulting in progressive muscle weakness[123].
ALS/FTD are age-related diseases, typically manifesting in the fifth or sixth decade of life[124]. Conversely, ALS transgenic mouse models are reported to exhibit abnormalities in axonal transport, sensorimotor development and neuronal excitability as early as the neonatal period, despite not exhibiting neurodegenerative phenotypes until mature adulthood[125-127]. This observation has prompted speculation that normal ageing is a prerequisite for the ALS/FTD neurodegenerative disease process[124].
One possible explanation is that normal age-related phenotypes exhibited by relevant cell types increase vulnerability to ALS/FTD pathology[128]. Relevant to ALS, various motor neuron deficits have been associated with normal ageing. Motor neuron number decreases in older rats (22 months old compared with 6 months old)[129] and humans (diminished motor neuron population evident over 60 years old)[130]. Energy homeostasis is also impaired, with motor neurons from aged mice demonstrating less efficient electrophysiological properties (20 months old compared with 12 months old)[131] and motor neurons from elderly human donors (68-99 years old) exhibiting mitochondrial dysfunction[132]. These age-related phenotypes and others are likely to lower the susceptibility threshold for ALS/FTD-specific neurodegeneration.
Reduced autophagy in skeletal muscle is another factor liable to increase vulnerability to ALS pathology as part of normal ageing. Central to less "neuron centric" models of ALS pathology is the notion that skeletal muscle is structurally and functionally interconnected with lower motor neurons. Decreased lysosomal activity leading to impaired autophagic flux and lower expression of core autophagy proteins (ATG7 and LC3) is reported in skeletal muscle from older mice[133,134], with ATG7 and LC3 expression also decreased in skeletal muscle from sedentary elderly human donors[134].
Around 5%-10% of ALS and 30%-50% of FTD cases are familial, with mutations in more than 25 genes associated with ALS/FTD[135]. Sporadic and familial ALS/FTD are clinically identical. Models based on disease-causing mutations have implicated dysfunction at several points in the autophagy pathway in ALS/FTD pathogenesis. For instance, ALS-linked mutations in the autophagy receptor optineurin (Q398X and E478G) are reported to block autophagosome-lysosome fusion by disrupting myosin VI-mediated lysosomal trafficking in motor neuron-like NSC-34 cells[136]. Phosphorylation by the protein kinase TBK1 has been shown to improve the efficiency of optineurin as an autophagy receptor, thereby increasing autophagy substrate clearance[137]. ALS/FTD-causing mutations identified in TBK1 that impair binding and phosphorylation of optineurin[138,139] are therefore expected to reduce autophagy substrate recognition and clearance. Numerous ALS/FTD-linked mutations have also been identified in the autophagy receptor p62 (also known as SQSTM1)[140-142], with ALS-associated L341V p62 exhibiting defective binding to the core autophagy protein LC3 and impaired recruitment to autophagic vesicles in NSC-34 cells[143].
Other ALS/FTD-causing mutations linked to autophagy include a splice-site mutation in the ESCRT (endosomal sorting complex required for transport) protein CHMP2B, which produces a truncated final protein[144,145]. Truncated CHMP2B blocks flux through the autophagy pathway in cultured primary neurons from rat cortex and photoreceptor neurons in fly eye sections, resulting in autophagosome accumulation[145]. The ATPase p97 (also known as VCP) also exhibits an ALS/FTD-linked mutation (R155H) that disrupts clearance of damaged lysosomes by autophagy. MEFs and muscle fibres from human donors expressing R155H p97 consequently accumulate defective lysosomes[146]. R155H p97 and A232E p97 (another disease-related mutation) additionally drive accumulation of stress granules (nontranslating messenger ribonucleoprotein aggregates) in HeLa cells, suspected to result from defective autophagy[147]. Very recently, p97 has been shown to function in early autophagy initiation through the core autophagy protein Beclin-1[148]. Models based on disease-causing mutations therefore indicate defects in autophagy substrate recognition, autophagosome biogenesis and autophagosome-lysosome fusion, depending on the functional effects of the mutations on VCP activities.
Cytosolic protein aggregates, which are autophagy substrates, are found almost universally in ALS/FTD and typically comprise TDP-43 (TAR DNA binding protein 43), SOD-1 (superoxide dismutase 1), FUS (fused in sarcoma) and DPR (dipeptide repeat) proteins in various combinations[149]. Tau, p62 and ubiquitin can also feature in these cytosolic inclusions. Consequently, further experimental evidence linking autophagy to ALS/FTD stems from autophagic degradation of ALS/FTD-associated aggregate-prone proteins.
A hexanucleotide (GGGGCC) repeat expansion in an untranslated region of the C9ORF72 transcript is the most common genetic abnormality identified in familial and sporadic ALS/FTD[150-152]. Hexanucleotide repeat expanded C9ORF72 generates DPR proteins, which adopt aggregate-prone conformations and form cytosolic inclusions[153]. Work in motor neuron-like NSC-34 cells indicates DPRs are predominantly cleared by autophagy[154]. Loss of wildtype C9ORF72 function has also been identified in ALS/FTD caused by hexanucleotide repeat expanded C9ORF72[155]. A "double-hit" pathogenic mechanism has been proposed, given that wildtype C9ORF72 is suggested to participate in both autophagosome biogenesis and lysosome-dependent autophagic flux[149], whereby the hexanucleotide repeat expansion in C9ORF72 both generates DPR proteins and promotes neurotoxic DPR protein accumulation by impairing autophagy[156].
Cytosolic aggregates of the RNA and DNA binding protein TDP-43 are found in almost all patients ALS, as well as over 40% of patients with FTD[157]. While soluble (monomeric) TDP-43 is predominantly degraded by the ubiquitin-proteasome system, clearance of aggregated (oligomeric) TDP-43 requires autophagy[158,159]. Since TDP-43 depletion has been shown to downregulate autophagy by decreasing expression of the core autophagy protein ATG7[160], pathogenic feedback is again possible due to TDP-43 sequestration into aggregates causing loss-of-function.
Regarding other aggregate-prone proteins associated with ALS/FTD, autophagy is reported to degrade soluble and aggregated SOD-1, thereby preserving viability of mouse neuroblastoma cells expressing ALS/FTD-associated SOD-1 mutants[161]. FUS cytosolic inclusions are commonly decorated with the autophagy receptor p62[162]. However, interactions between autophagy and FUS-mediated ALS/FTD pathology are not well characterised. Finally, mitophagy (mitochondrial-selective autophagy) is known to clear defective mitochondria, which accumulate in ALS/FTD and compromise neuronal health[163].
Autophagy modulation as therapy in ALS/FTD
There are currently only two FDA-approved drugs for ALS (riluzole and edavarone), which have limited efficacy in slowing disease progression, and no FDA-approved drugs for FTD[164]. Autophagy modulation is therefore, an attractive therapeutic avenue in ALS/FTD [Table 2]. However, since defects in both autophagosome biogenesis and autophagic flux have been identified in ALS/FTD, autophagy inducers are clearly not panaceas for many forms of ALS/FTD.
A phase 2 clinical trial of rapamycin in ALS (RAP-ALS trial) has recently finished[165], with the results now awaited. This trial follows on from promising animal studies. For example, rapamycin treatment decreased TDP-43 inclusions and forebrain neurodegeneration in a FTD mouse model[166]. Increased autophagy was observed in the mouse forebrain after rapamycin treatment, with motor and behavioural phenotypes also ameliorated[166]. Rapamycin also reduced neuronal TBPH (TAR DNA binding protein 43 homolog) aggregates in a Drosophila ALS model, as well as partially rescuing lifespan and locomotive defects in these animals[167]. On the other hand, when studied using ALS/FTD models not based on TDP-43, rapamycin exhibited less therapeutic potential and sometimes worsened neurodegenerative phenotypes. Rapamycin accelerated motor neuron degeneration and shortened lifespan in a transgenic mouse model of ALS expressing disease-causing mutant SOD-1 (human G93A SOD-1), for instance[168]. This is suggested to relate to impaired autophagic flux in these animals, which is exacerbated by autophagy induction using rapamycin[168].
Experimental evidence concerning mTOR-independent autophagy inducers in ALS/FTD is similarly mixed. Treatment with trehalose ameliorated early motor phenotypes in the G93A SOD-1 transgenic mouse model of ALS, but failed to delay end-stage motor phenotypes and did not extend survival. This was despite increased autophagy and reduced SOD-1 levels in the spinal cords of these animals after trehalose treatment[169]. Lithium showed initial therapeutic promise in patients with ALS[170]. However, subsequent higher powered clinical trials reported no benefit form lithium treatment on either disease progression or survival in patients with ALS[171-174]. The heterogeneous nature of ALS/FTD pathology, which extends to defects at multiple points in the autophagy pathway, therefore makes unlocking the therapeutic potential of autophagy modulation in ALS/FTD complicated, necessitating further study.
AUTOPHAGY AND AGEING
While the accumulation of protein aggregates is traditionally associated with neurodegenerative diseases, studies of post-mortem brains of aged individuals, who were not diagnosed with neurological conditions, shows the presence of amyloid plaques, neurofibrillary tangles, Lewy bodies, synaptic dystrophy and neuronal loss, consistent with the notion that the integrities of degradative pathways are challenged with age[175]. Indeed, there is increasing evidence suggesting that autophagy declines during ageing in many organisms and that this reduction plays a role in the functional deterioration of biological functions with age[176].
In multiple studies, autophagy gene transcripts decrease with age in the brain and muscle of Drosophila[177-179]. Transcriptional downregulation of ATG5, ATG7 and BECN1 with age was found in post-mortem human brains[180]. This correlates with the age-related decrease in autophagy proteins in the mouse hypothalamus[181] and human muscle[134], as well as lysosomal proteins in rat livers[182]. In a spatiotemporal analysis of autophagy in C. elegans, an age-dependent decrease in the numbers of autolysosomes and autophagosomes was observed in the intestines, muscles and neurons[183], corresponding with another study showing decreased autophagic activity in whole-body extracts of aged C. elegans[184]. Electron microscopy analyses have shown an accumulation of autophagic vacuoles and decreased ability to clear autophagic vesicles in mouse and rat livers with age[185-187].
Additionally, studies have shown a correlation between autophagy and lifespan. In C. elegans, decreased expression of orthologues of the mammalian ATG1, ATG7, ATG12, BECN1 and ATG18 lead to shortened lifespan[188]. Deletion of core autophagy genes, such as Atg7 in flies, reduce life-span and cause accumulation of aggregated proteins in degenerating neurons[189], which was supported by findings revealing reduced lifespan in mutant flies with reduced Atg1 and Atg8 expression[179]. A study in senescence-accelerated mouse-prone 8 mice, a rodent model with accelerated ageing, showed an accumulation of autophagic vesicles in hippocampal neurons along with deficits in learning and memory with increasing age[190]. The age-dependent decline in autophagic function and lysosomal degradation was prevented with dietary restriction[191,192].
Overexpression of specific autophagy genes extends lifespan in flies and mice[179,193,194]. Additionally, overexpression of the TFEB orthologue, helix-loop-helix transcription factor hlh-30 in C. elegans extended lifespan in an autophagy-dependent manner[195]. Disruption of the interaction of Beclin-1 with its negative regulator Bcl-2 achieved by introducing a point mutation in BECN1(F121A) in mice led to increased lifespan and decreased age-related renal and cardiac pathological changes and spontaneous tumorigenesis[196].
In addition to bulk autophagy, a decline in selective forms of autophagy, such as the autophagic degradation of mitochondria has been observed in aged worms, flies, mice and humans[37,197], possibly accounting for the increased presence of inefficient and toxic mitochondria that have been implicated in neurodegenerative and inflammatory pathologies[198]. In accordance with this notion, upregulation of mitophagy, as well as pharmacological induction of mitophagy was found to improve longevity in worms[199-201].
It is evident that the progressive loss of the degradative capacity can lead to an accumulation of toxic proteins, as autophagy gradually decreases with age. As mentioned earlier, autophagic decline is especially relevant to neurons, as post-mitotic cells are unable to segregate dysfunctional proteins and organelles from daughter cells using mitosis, resulting in an increased reliance on autophagy. This can have a detrimental impact on neuronal health and may play a role in manifestation of neurodegenerative diseases.
Therapeutic potential of autophagy in ageing
In addition to therapeutic potential in neurodegenerative conditions, autophagy upregulation is also suggested to ameliorate phenotypes associated with normal ageing and extend healthy lifespan. Caloric restriction drives autophagy-dependent lifespan extension in both S. cerevisiae (budding yeast)[202,203] and C. elegans[204]. Similar results are reported using daf-2 mutant C. elegans, which exhibit lifespan extension due to defective insulin-like signalling dependant on autophagy[188,205]. Transgenic mice moderately overexpressing the core autophagy protein ATG5 in all tissues live 17% longer than wildtype controls and also exhibit "anti-ageing" phenotypes, such as enhanced insulin sensitivity[194]. Whether these phenotypes result directly from increased autophagy is not addressed in this study. More recently however, the lifespan extensions and milder age-related heart and kidney phenotypes exhibited by mice expressing constitutively active Beclin-1 (F121A mutant) has been shown to require increased flux through the autophagy pathway[196]. Pharmacological upregulation of autophagy has also been suggested to extend lifespan. For example, a multicentre trial has demonstrated that feeding aged (600 days old) mice rapamycin significantly increases age at 90% mortality[206]. This result has also been seen in Drosophila with rapamycin-induced lifespan extension dependent on expression of the core autophagy protein ATG5[207].
DECLARATIONS
Authors' contributions
Contribute equally to the research and drafting of the article: Karabiyik C, Frake RA, Park SJ, Pavel M, Rubinsztein DC
Coordinate the first draft: Karabiyik C
Edite the article: Rubinsztein DC
Availability of data and materials
Not applicable.
Financial support and sponsorship
This work was supported by UK Dementia Research Institute (funded by the MRC, Alzheimer's Research UK and the Alzheimer's Society), Roger de Spoelberch Foundation, Alzheimer's Research UK, The Tau Consortium, Cambridge Centre for Parkinson-Plus, National Institute for Health Research Cambridge Biomedical Research Centre (Rubinsztein DC); Gates Cambridge Scholarship (Karabiyik C); a grant of the Romanian Ministry of Research, Innovation and Digitization, CNCS/CCCDI - UEFISCDI, project number PN-III-P1-1.1-PD-2019-0733, within PNCDI III (Pavel M); the South East Scotland Academic Foundation Programme (Frake RA). The views expressed are those of the author(s) and not necessarily those of the NHS, the NIHR or the Department of Health and Social Care.
Conflicts of interest
Rubinsztein DC is a consultant for Aladdin Healthcare Technologies SE, Drishti Discoveries, PAQ Therapeutics Inc. and Nido Biosciences. None of the other authors have any potential competing interests.
Ethical approval and consent to participate
Not applicable.
Consent for publication
Not applicable.
Copyright
© The Author(s) 2021.